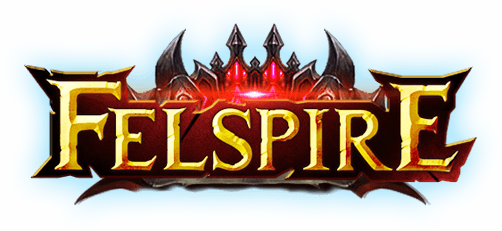 VIP
Click the VIP button to enter the VIP interface.

You can select the VIP Card to activate VIP. There are mainly 3 VIP Cards: Master VIP Card, Platinum VIP Card and Gold VIP Card that will cost different diamonds.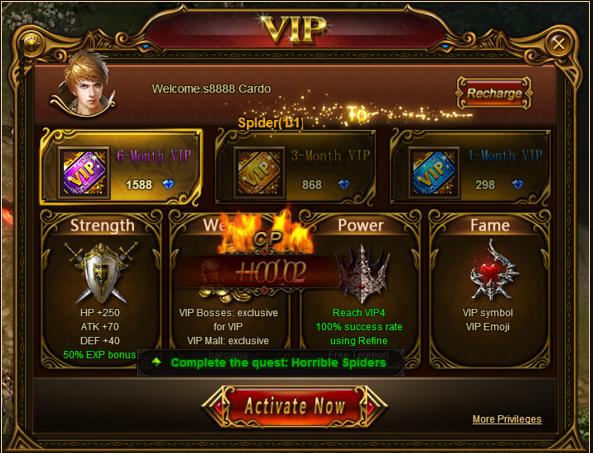 There are 9 VIP levels.
You can upgrade your VIP via collecting VIP EXP. The required EXP for each VIP level is different.
VIP EXP is obtainable from:
1) You can get 10 VIP EXP every day.
2) You will get 1 VIP EXP every time you spend 100 diamonds.
Those who spend less than 100 diamonds won't get VIP EXP.
Even the non-VIP players will also get VIP EXP when they spend diamonds.
If your VIP becomes invalid, you will be deducted 5 VIP EXP and your VIP level will be degraded.
The VIP level will be degraded to VIP 1 at most.
VIP Details:
VIP 1:
1.Speed of leveling up increased by 1.5
2.Praying attempt +1
3.Daily attempt to claim SP +5
4.VIP expressions
5.Use Tele-vault for free
6.Auto Supply: buy potions automatically, revive automatically
7.Make-up signing in
8.Daily AP +10
9.Free quest teleport
10.Trade tax decreased to 2%
11.Attempt of double smelt +1
12.Daily attempt of training pet +1
13.Daily attempt of Slot Machine +1
VIP 2:
1. Speed of leveling up increased by 1.5
2. Praying attempt +1
3. Daily attempt to claim SP +5
4. VIP expressions
5. Use Tele-vault for free
6. Auto Supply: buy potions automatically, revive automatically
7. Make-up signing in
8. Daily AP +10
9. Free quest teleport
10. D. Boost: 100% success rate guaranteed
11. Trade tax decreased to 2%
12. Attempt of double smelt +2
13. Daily attempt of training pet +2
14. Daily attempt of Slot Machine +2
VIP 3:
1. Speed of leveling up increased by 1.5
2. Praying attempts +3
3. Daily attempt to claim SP +5
4. VIP expressions
5. Use Tele-vault for free
6. Auto Supply: buy potions automatically, revive automatically
7. Make-up signing in
8. Daily AP +10
9. Free quest teleport
10. D. Boost: 100% success rate guaranteed
11. Trade tax decreased to 2%
12. Attempt of double smelt +2
13. Daily attempt of training pet +3
14. Daily attempt of Slot Machine +3
VIP 4:
1. Speed of leveling up increased by 1.5
2. Praying attempt +4
3. Daily attempt to claim SP +10
4. VIP expressions
5. Use Tele-vault for free
6. Auto Supply: buy potions automatically, revive automatically
7. Make-up signing in
8. Daily AP +10
9. Free quest teleport
10. HP+250 ATK+70 DEF+40
11. Demon Abyss Attempt +1
12: Temple of Death Attempt +1
13. Auto-Training: Upgrade the mount from T1 to T6
14. VIP Mall: Exclusive goods
15. D. Boost: 100% success rate guaranteed
16. Trade tax decreased to 2%
17. VIP 4 Boss: Grants high chance to get equipment with 2 blessed stats
18. Attempt of double smelt +2
19. Daily attempt of training pet +4
20. Daily attempt of Slot Machine +4
VIP 5:
1. Speed of leveling up increased by 1.5
2. Praying attempt +5
3. Daily attempt to claim SP +20
4. VIP expressions
5. Use Tele-vault for free
6. Auto Supply: buy potions automatically, revive automatically
7. Make-up signing in
8. Daily AP +10
9. Free quest teleport
10. VIP Refine: +15 Refine, 100% success rate guaranteed
11. HP+250 ATK+70 DEF+40
12. Demon Abyss Attempt +1
13: Temple of Death Attempt +1
14. Auto-Training: Upgrade the mount from T1 to T6
15. Adv. Auto-Training: Upgrade the mount from T7 to T12
16. VIP Mall: Exclusive goods
17. D. Boost: 100% success rate guaranteed
18. Trade tax decreased to 2%
19. VIP 4 Boss: Grants high chance to get the equipment with 2 blessed stats
20. VIP 5 Boss: Grants high chance to get the equipment with 2 blessed stats
21. Attempt of double smelt +5
22. Daily attempt of training pet +5
23. Daily attempt of Slot Machine +5
VIP 6:
1. Speed of leveling up increased by 1.5
2. Praying attempt +5
3. Daily attempt to claim SP +30
4. VIP expressions
5. Use Tele-vault for free
6. Auto Supply: buy potions automatically, revive automatically
7. Make-up signing in
8. Daily AP +10
9. Free quest teleport
10. VIP Refine: +15 Refine, 100% success rate guaranteed
11. HP+490 ATK+90 DEF+60
12. Demon Abyss Attempt +1
13: Temple of Death Attempt +1
14. Auto-Training: Upgrade the mount from T1 to T6
15. Adv. Auto-Training: Upgrade the mount from T7 to T12
16. VIP Mall: Exclusive goods
17. D. Boost: 100% success rate guaranteed
18. Trade tax decreased to 2%
19. VIP 4 Boss: Grants high chance to get the equipment with 2 blessed stats
20. VIP 5 Boss: Grants high chance to get the equipment with 2 blessed stats
21. Attempt of double smelt +6
22. Daily attempt of training pet +6
23. Daily attempt of Slot Machine +6
VIP 7:
1. Speed of leveling up increased by 1.5
2. Praying attempt +5
3. Daily attempt to claim SP +40
4. VIP expressions
5. Use Tele-vault for free
6. Auto Supply: buy potions automatically, revive automatically
7. Make-up signing in
8. Daily AP +10
9. Free quest teleport
10. VIP Refine: +15 Refine, 100% success rate guaranteed
11. HP+610 ATK+100 DEF+70
12. Demon Abyss Attempt +2
13: Temple of Death Attempt +2
14. Auto-Training: Upgrade the mount from T1 to T6
15. Adv. Auto-Training: Upgrade the mount from T7 to T12
16. VIP Mall: Exclusive goods
17. Boss Teleport: Teleport to where the boss is immediately
18. D. Boost: 100% success rate guaranteed
19. Trade tax decreased to 2%
20. VIP 4 Boss: Grants high chance to get the equipment with 2 blessed stats
21. VIP 5 Boss: Grants high chance to get the equipment with 2 blessed stats
22. VIP 7 Boss: Grants high chance to get the equipment with 2 blessed stats
23. Attempt of double smelt +7
24. Daily attempt of training pet +7
25. Daily attempt of Slot Machine +8
VIP 8:
1. Speed of leveling up increased by 1.5
2. Praying attempt +5
3. Daily attempt to claim SP +50
4. VIP expressions
5. Use Tele-vault for free
6. Auto Supply: buy potions automatically, revive automatically
7. Make-up signing in
8. Daily AP +10
9. Free quest teleport
10. VIP Refine: +15 Refine, 100% success rate guaranteed
11. HP+730 ATK+110 DEF+80
12. Demon Abyss Attempt +2
13: Temple of Death Attempt +2
14. Auto-Training: Upgrade the mount from T1 to T6
15. Adv. Auto-Training: Upgrade the mount from T7 to T12
16. VIP Mall: Exclusive goods
17. Boss Teleport: Teleport to where the boss is immediately
18. D. Boost: 100% success rate guaranteed
19. Trade tax decreased to 2%
20. VIP 4 Boss: Grants high chance to get the equipment with 2 blessed stats
21. VIP 5 Boss: Grants high chance to get the equipment with 2 blessed stats
22. VIP 7 Boss: Grants high chance to get the equipment with 2 blessed stats
23. Attempt of double smelt +2
24. Daily attempt of training pet +8
25. Daily attempt of Slot Machine +9
VIP 9:
1. Speed of leveling up increased by 1.5
2. Praying attempt +5
3. Daily attempt to claim SP +60
4. VIP expressions
5. Use Tele-vault for free
6. Auto Supply: buy potions automatically, revive automatically
7. Make-up signing in
8. Daily AP +10
9. Free quest teleport
10. VIP Refine: +15 Refine, 100% success rate guaranteed
11. HP+850 ATK+120 DEF+90
12. Demon Abyss Attempt +3
13: Temple of Death Attempt +3
14. Auto-Training: Upgrade the mount from T1 to T6
15. Adv. Auto-Training: Upgrade the mount from T7 to T12
16. VIP Mall: Exclusive goods
17. Boss Teleport: Teleport to where the boss is immediately
18. D. Boost: 100% success rate guaranteed
19. Trade tax decreased to 2%
20. VIP 4 Boss: Grants high chance to get the equipment with 2 blessed stats
21. VIP 5 Boss: Grants high chance to get the equipment with 2 blessed stats
22. VIP 7 Boss: Grants high chance to get the equipment with 2 blessed stats
23. Attempt of double smelt +2
24. Daily attempt of training pet +10
25. Daily attempt of Slot Machine +10